Welcome to the
4-star hotel
in Rothenburg
Located in the center of picturesque medieval Rothenburg overlooking the Tauber Valley, the 4-star hotel 915-eise consists of four patrician houses from the 12th and 18th centuries, furnished with select antiques and original artwork.
Rooms feature antique furniture with original paintings.
For the business travelers, the meeting rooms can accommodate up to 150 guests. Secretarial and valet services are provided.
The restaurant features local and saisonal products.
Enjoy the garden with sun terrace, and other leisure activities.
Services
Baby / Child Care
Dry Cleaning / Laundry Service
Pets Allowed
General
24 - Hour Front Desk
Concierge
Elevator
Lounge / Bar
Meeting / Banquet Facilities
Restaurant / Cafe
Room Service - Limited Hours
Safe Deposit Box - Front Desk
Secretarial Services
Self Parking
Translation Service
Valet Parking
At restaurant enjoying
The kitchen crew using fresh local and saisonal products for a varied and high grade kitchen. You are spoiled in comfortable and elegance atmosphere. Choose from the wine list which hold many local wines along with international shots.
Start your day at the
4-star hotel 915-eise
in Rothenburg
in Rothenburg o. d. T. on the breakfast terrace amidst an abundant garden.
Contemplative tranquillity.
The smell of freshly brewed coffee.
Relax and follow where your fancy takes you.
Welcome at the festive 4-star hotel 915-eise
in Rothenburg
Find a delightful and exceptional setting not only for meetings, workshops or presentation.
But also for family celebrations, anniversaries, weddings, christentings as well as for espousal.
Indulge in an elegant and comfortable atmosphere...
Conference technology in all rooms
Overhead projector
Slide projector
Projection screens
Flip chart
PA system
Pinboards
Blackboard
Speaker's desk
Simultaneous system available
Conferences - Meetings
All inclusive packages
Leisure and entertainment program
Here work becomes joy
With excellent access from all parts of Germany, the 4-star hotel 915-eise is the perfect place to mix business and pleasure. The hotel has function and banqueting space accommodating 5 up to 200 guests while the historical setting in the middle of Rothenburg presents an enhancing atmosphere and a special place for your meetings and incentives.
8 meeting- and conference rooms - offer space - from 32 m² to 143 m² - for up to 150 guests.
The gem of themeeting space, two new professional air-conditioned conference rooms with dataprojector, microphone systems and high-speed bradband access.
Arrival by train
You are able to connect to the main railway routes of the Deutsche Bahn via Steinach (15 km) between Wurzburg (67 km) and Ansbach (47 km).
Railroad track Wurzburg Hbf, Wurzburg Sud, Winterhausen, Grossmannsdorf, Ochsenfurt, Marktbreit, Uffenheim, Steinach b. Rothenburg, Oberdachstetten and Ansbach.
To change trains
For the last 15 km in the train station Steinach b. Rothenburg you have to change the trains in direction to Rothenburg o. d. Tauber.
From the railway station Rothenburg o. d. Tauber to the 4-star hotel 915-eise (walking distance about 1 km, by car about 1,6 km) a taxi transfer is recommended, for example Taxi Ebert or Taxi Kersten in Rotheburg (there is no shuttle service by the 4-star hotel 915-eise).
Restaurants in the surrounding area of the 4-star hotel 915-eise in Rothenburg
Restaurant Italia (nearly directly next to the hotel)
phone: +49 98 61 - 22 25
Restaurant Ratsstube (2 minutes walking distance, on the marketplace, franconian food)
phone: +49 98 61 - 55 11
Reichsküchenmeister (2 minutes walking distance, behind the marketplace!)
phone: +49 98 61 – 97 00
Landwehr-Brau am Turm (7 minutes walking distance, at the Siebersturm, only vegetarian food, brewery bar)
phone: +49 9861 - 8755353
Altfränkische Weinstube (5 minutes walking distance, Klosterhof 7, franconian and bavarian cuisine)
phone: +49 9861 – 6404
Weinstube Zur Holl (3 minutes walking distance, Burggasse 8, oldest restaurant of Rothenburg, rich in tradition, franconian gourmet cuisine)
phone: +49 9861 – 4229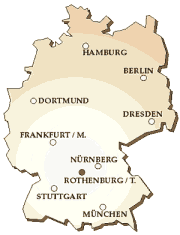 Travel Directions
Approach by car via Autobahn A7 Würzburg-Ulm. The exit "Rothenburg-Tauber" is just 2 kilometers from the inner city.
Distances
Bad Mergentheim 47 km
Ansbach 47 km
Dinkelsbuhl 44 km
Nordlingen 75 km
Schwabisch Hall 67 km
Heilbronn 107 km
Ulm 134 km
Distances of airports
A club airfield is located in the near vicinity of the city.
Wurzburg (67 km = 50 min),
Nuremburg / Nuremberg / Nurnberg airport (87 km = 95 min),
Stuttgart airport (166 km = 90 min),
Heidelberg / Neckar (168 km = 95 min),
Frankfurt airport (188 km = 100 min),
Munich / Munchen airport (241 km = 140 min)
---